For Nordics, "It's about creating a larger ecosystem," says fintech exec
Juwan Lee has spent over 30 years working around the world in financial services, before leaving money management to create NexChange, a global social network for the financial services industry. Armed with in-depth experience from the worlds major financial capitals, he shares his insights for the Nordic countries.
Fintech, such as electronic finance, digital wallets, and cryptocurrencies, are changing the way we live and work.  The Nordics are noted financial innovators – they will likely be the first countries to go cashless, and startups like Coinify and Trustly are building the solutions that are disrupting traditional financial infrastructure.
Many Nordic fintech companies, such as Meewallet, who has partnered with banks on the Faroe Islands, and mCash, who has partnered with Norway's SparBank 1, aim for regional domination before scaling.  But Juwan says it is critical for companies to look outside of their own backyard.
"First and foremost, you have to think globally from day one, and make sure your product is not just for the Nordics – that it's transferable between geographies."
NexChange has taken this approach themselves, setting up 3 locations across the globe in under a year, and hiring locals who knew the market.
This is in stark contrast to Nordic startups, who often wait to build traction locally before thinking of expanding regionally, let alone internationally.  But Juwan sees change happening slowly.
"Fintech is a very interesting connector globally.  In Hong Kong, we have recently seen how Nordic startups are trying to reach out to financial centers across the globe, and this trend is likely to continue. For example, we recently attended the Swedish-Hong Kong Fintech Seminar on the growing fintech relationship between Sweden and Hong Kong," says Juwan.
Why London beats even Silicon Valley
The need to go global is critical for Nordic companies, whose home markets are small.  And connecting with financial centers is the best way to absorb best practices, find investments, and reach high levels of success.
The traditional global mecca for startups is Silicon Valley, long been ranked the number one startup ecosystem for its famously high concentration of tech talent and investors.  But for fintech, London is the top hub.
"Whenever you have the technology next to a financial center, the growth is much faster.  Which is the reason why London has grown so quickly and is the premier money center where the fintech industry has grown the most, even more than in New York. In addition, London also has about 44,000 people working in fintech, and strong government and regulatory support," says Juwan.
While the verdict on whether government regulation helps or hinders Nordic fintech startups is up for debate, VC funding has been cited as a barrier in the growth of Nordic startups.  As Juwan explains:
"The bottleneck for Nordic countries is providing access to VC funding,  or helping Nordic companies expand to larger financial hubs like London, where they can obtain VC funding  more easily and access customers."
If startups can't make it in London, there is another solution: bringing the Nordics and neighboring regions closer together, to create a larger combined industry cluster.
"Whenever you bring clusters together and spread them outside of their original group, that is beneficial. I think it's about creating a larger ecosystem for Nordic companies to service," says Juwan.
See Also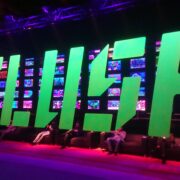 Famous Nordic risk-aversion is not the main problem
Another, more intangible problem is often cited as a barrier for Nordic success: risk aversion. But Juwan disagrees that this is even a problem to begin with.
"There are other countries around the world where there is a similar risk-aversion, like South Korea.  Yet South Korea still has a rapidly growing fintech community, so I don't necessarily think the problem is only cultural."
The difference, Juwan explains, is an immersion in technology from a young age, which creates a strong cultural connection to technology and by extension, innovation.
"South Korea is a digitally advanced economy, where technology is everywhere from the moment you wake up and open your refrigerator to when you go to work.  An economy that believes in forward-thinking technology ignites entrepreneurship."
Image via Finnbuzz.