Media Honeypot 2019: Media startups connect with legacy companies, but struggle to get funding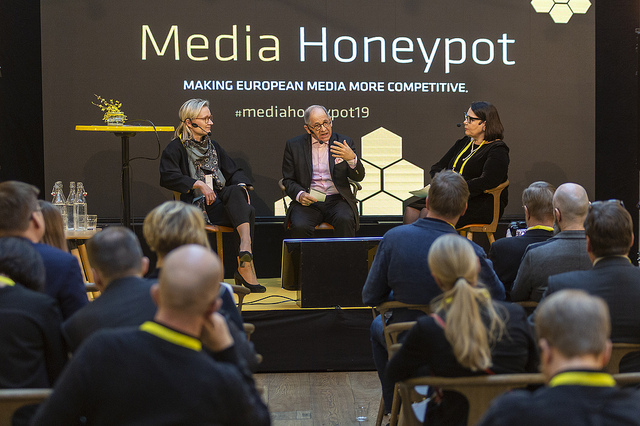 The Media Honeypot series of events started in Helsinki in 2016. Now, three years, and several events later, it the go-to event for media startups.  Heikki Rotko, the founder of Media Honeypot, says that Media Honeypot was born out of a desire to connect startups with their business partners to create the media we as customers deserve.
The aim of the event is to match the supply and demand, and create deal flow to media startups by connecting media industry startups and the media houses that are seeking to innovate their businesses through outside partnerships. Media startups do not attract funding the same way that "basic" ICT/Tech startups do, and often struggle to break even.  The event helps media startups connect with their legacy peers, so both types of businesses can learn from each other.
Media startups connecting with legacy companies
Janne Neuvonen, of the media startup BCaster  sees that the media industry's field is getting more and more open and global, and specific events such as Media Honeypot, are needed. Janne explained that BCaster's was trying to break into the US market, and was really happy to see the media industry executives being pulled together by Media Honeypot, as he was able to make valuable connections affiliated with media heavyweights such as SXSW.
Aki Snellman of the startup Leiki represents one of the older startup companies, and was recently acquired by Double Verify.  Leiki applies AI and Natural Language processing algorithms to media, and is an example of media innovation being developed in a startup that has value for legacy media companies.
Why don't media startups get funding?
Reidar Wasenius of FiBAN gave his insights into why media startups have difficulty getting funding.  He explained:
"The industry is not that special, requiring special attention (like Games Industry for example). Perhaps there are a bit less Business Angels within the media industry, and as the dealflow thinking of B-2-C & B-2-B target audiences are very different, it has caused some fragmentation within the while industry. Especially consumers as customers feels harder for the these startups, although companies such as Netflix, Shazam, Spotify are very much consumer driven businesses, B-2-B driven businesses offer so much more predictivity."
Taylor Ryan of TaylorRyan.io and Klint Marketing noted there are challenges when seeking investment for his two companies.
"The unfortunate part about running a growth marketing agency is that there are many elements in the business model that are just not scalable. This means it's unlikely that investors see these as opportunities unlike traditional Saas platforms," said Taylor.
Ultimately, he feels investors shy away from what they view as a more risky business. FiBAN aims to help more media startups in the future.