Scandinavian studies: young gamers are better students, more social
Studies in Sweden and Norway show that students who play computer games do better in school.  And in Denmark, new research shows that playing computer games helps young people improve their social skills and create more friendships.
By Tobias Thomasen
Computer games have been blamed for many negative things.  Most often, they are thought to encourage violent and boorish behavior in young people.
But several studies indicate that, contrary to popular belief, computer games bring many benefits to young players.
A Karlstad University study of 9th graders shows that young people who play computer games more than five hours a day excel at English – far more than those who do not play.
"Those who play a lot use English words with three syllables in their English assignments.  They also get better grades than those who do not play," explains linguist Pia Sundqvist, who helped to conduct the study.
High English proficiency
Norwegian researchers have also given the thumbs up for computer games.
At Oslo University, a study of over 10,000 students showed that young gamers are highly proficient in English, even when they are at an average proficiency with their mother tongue.  Norwegian researcher Lisbeth Brevik, who helped to make the study, said:
'The results of this study show that students who are weak in some subjects may be strong in others. Therefore we must look at the totality of the pupils. "
Come Norwegian secondary schools have even added e-sports, competitive video games, to their curriculum.
Improved social skills
In Denmark, the media researcher Anne Mette Thorhauge from Copenhagen University analyzed the gambling habits of the 10-18 year old students, and found that computer games have a positive effect on young people.

"Computer games like Counter Strike and League of Legends are an extension of 'robbers and soldiers' and other games.  They exercise the players' cognitive abilities. At the same time, the young gamers communicate well, get social skills and lots of friends. And they have a lot of fun at the same time," she says.
While she is aware of the many negative ideas about how computer games affect young people, she rejects that computer games are dangerous.
See Also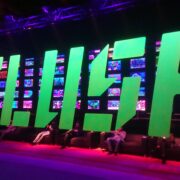 "There is no evidence showing that, for example, violent games have a negative effect on young people. "
"It's more about the environment, which may not completely understand the computer gaming world and therefore problematize it."
"The only thing that can be a problem for young gamers, is if they neglect other things in their lives such as school or family, because they are too busy playing."
"But our research shows that it is not a big problem," says Anne Mette Thorhauge.
Additional reporting by Lisa Mallner.
This article was translated from bt.dk.