10 hottest cleantech startups in Europe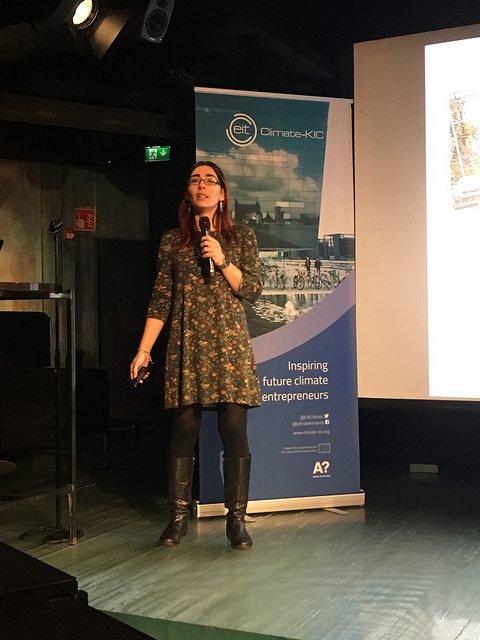 From extending battery life to make value out of wood waste, ten cleantech startups pitched their ideas to tackle the climate crisis at this year's Slush.
This year's Slush was all about changemakers and the oncoming sustainable revolution. While a lot of startups attending the two-day conference had the potential of making a change, ten cleantech startups were selected to pitch on stage for a jury of four at the Climate Impact Battle; ten startups that according to Climate-KIC have the potential to become leaders in addressing climate change.
This German company founded in 2016 is all about energy storage. They have developed a flywheel energy storage solution as an upgrade to existing power generation assets together with its own grid balancing software.
Adaptive's solution is low cost, sustainable, scalable, and has an unlimited cycle-life making it an innovative energy storage system and a new business model for stabilizing electricity grids. In 2018, Adaptive will build Europe's largest Flywheel installation.
This battery systems startup targets the market for grid-scale energy storage. Their battery control and management technology will ensure full utilization of each cell in the battery pack extending the cycle life of a multi-call Lithium-ion battery by up to 60 percent.
Their first product is a printed circuit board supported by specialized battery control software. Located in Oxford, the startup consists of four full-time employees and have raised 120.000 £.
The winner of the Impact Climate Battle and the 50.000 euro helps logistics professionals to reduce empty miles and risks significantly with an easy to use online-map and social medium.
According to Trucks on the Map, 12-27 % of the long-haul truck journeys are run empty hitting 120 billion kilometers of deadhead trips a year in the EU and the US. With Trucks on the Map, trucking professionals and shippers can check live where there are free bookable trucks at any future time, anywhere on the globe.
Trucks on the Map have been developing the product since 2014 and launched the official system in May 2017.
AquaRobur is a Swedish invention that detects water leakages and support renewal of public water pipeline networks via self-powered sensors.
The product is placed various places along the water pipeline to detect flaws, water pressure, and deviations, and a small part of the energy of the flowing water gets transformed into electricity by a patent-pending technology. The sensors can collect real-time data during a long time – 8+ years – which is a lot longer than battery-powered solutions that run for a couple of months with a similar setup.
This Dutch company founded in 2015 promises better batteries through nanocoatings. Delft-IMP has developed a coating for inexpensive battery materials that can enhance the lifetime of the batteries and make them suitable for use in automotive applications. Delft-IMP promise that their patented equipment effectively decreases the costs for lithium-ion battery manufacturers by a factor 5. After establishing themselves in the battery market, Delft-IMP plan to expand to fuel cell and lighting applications.
Trunkrs works in the e-commerce space. Through crowd-funding and business angels, Trunkrs have raised 385.000 euros for their smart solution for webshops. Trunkrs want to put the recipient in control regarding delivery moment and place via an AI-powered chatbot and reduce non-deliveries by 80%. The Dutch company sell their service to webshops charging a fee pr. shipment, their largest customer being Zalando. So far Trunkrs have serviced about 58.000 different recipients.
Chrysalix is a spin-out from Imperial College London. By applying a little chemical magic, they turn wood waste into value. More technically put, they use a novel type of low-cost solvents to convert wood waste into a decontaminated and cheap raw material for producing inexpensive and sustainable chemicals, materials, and fuels. So far, Chrysalix has three patents, the founder Florence Gschwend made the Forbes 30 under 30 list 2017, and Chrysalix won runner-up and 25.000 euros at the Climate Impact Battle at Slush.
It takes over 12 years to bring a new drug to market, and it costs over one billion dollars. ChemAlive makes chemistry efficient with software. ChemAlive uses machine learning and big data to model reactions and reduce development costs by up to 85%. Their software makes the development of new drugs a 1000 times faster and ten times more accurate. ChemAlive have been awarded a Swiss government grant and are active in three pilot projects.
The Danish startup develops, manufactures and sells polymer foil based solar concentrators for utility-scale installations. This solution is as efficient as parabolic solar fields but at a fraction of the cost.
Heliac has raised four million euros from private investors and grants.
A seed-stage Danish startup located in London, CustoMem works with targeting binding of pollutants in water. CustoMem makes granules that can be customized to target the most hazardous substances under the right industrial water conditions. The solution is ten times more efficient than existing ion exchange resins and granular activated carbon.