The six cleantech startups to watch in 2019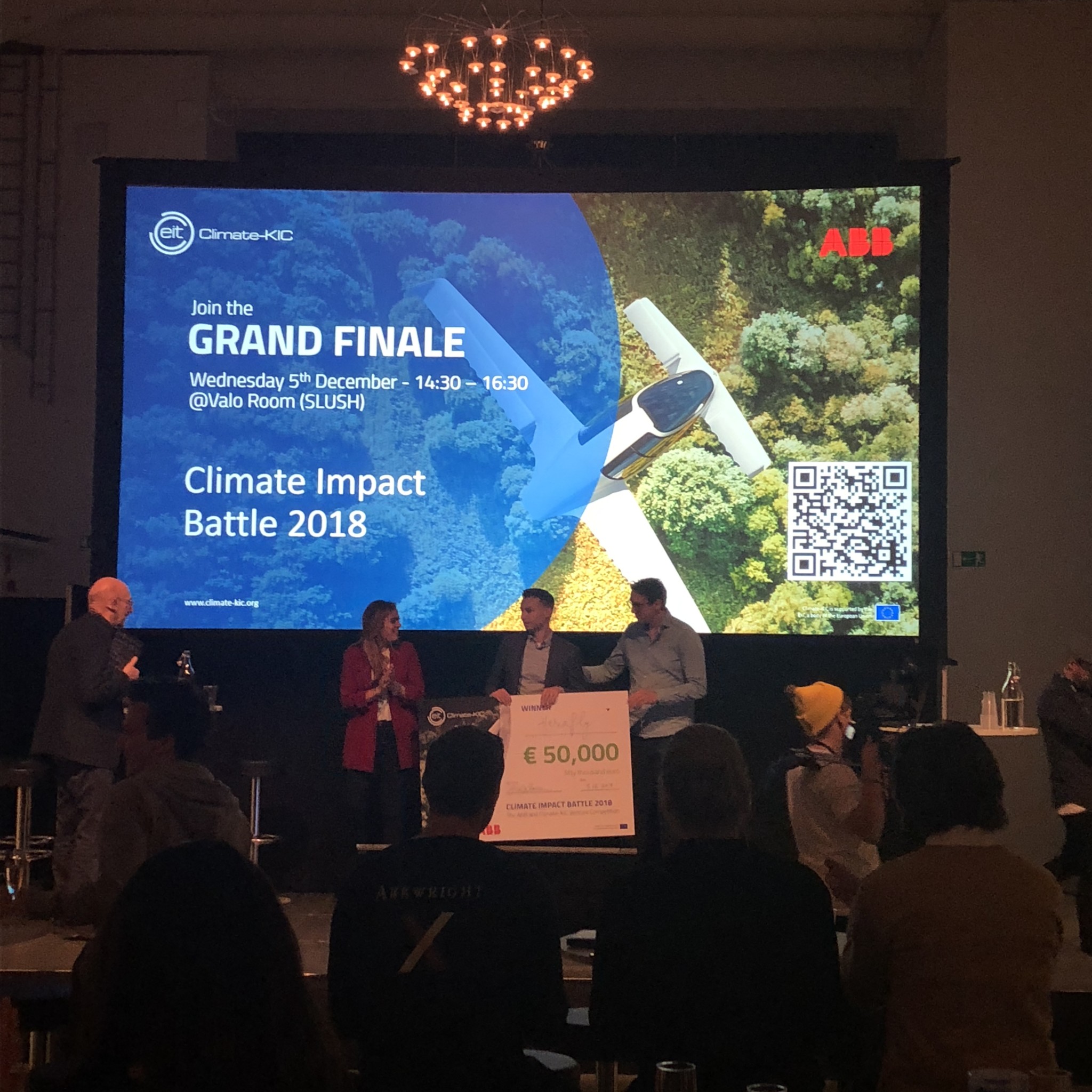 Every year, EIT Climate-KIC hosts the Climate Impact Battle at Slush. 30 pre-selected startups pitch the first day of the event. Only six makes it to the final on the last day of Slush. This year, the six finalists challenged climate change from a broad spectrum of solutions ranging from tiny insects to large-scale construction.
Irish company Hexafly takes low-value waste and uses insects to turn it into commodities such as fertilizers, protein, and oils targeting the aqua feed, chitin, and plant nutrition industries. In the next few years, the demand for fishmeal is set to surpass the supply, and the current alternative to fish-based fish food, soy, is a landbased crop far from the natural diet of fish. Insects, on the other hand, says Hexafly, are closer to the natural diet, cheaper to produce, emit less CO2, doesn't take up as much land, and are not prone to diseases.
IndiNature from Scotland has turned to nature to produce lower cost, lower emission construction insulation. Construction is a heavy industry when it comes to emitting CO2, it takes up half of the global resources, produce half of the CO2, and the waste fills up half of the global landfills. IndiNature has developed two products which are 100 % plant-based, reprocessable, reusable, and biodegradable.
The German platform Refurbed wants to be Amazon for refurbed electronics. Electronic waste takes up huge amounts of resources globally but we keep buying new instead of opting for used products. That is because of several reasons; quality, trust, negotiations, and availability. Reasons Refurbed wants to tackle with their platform. With Refurbed the customer gets up to 40% discount on used products, the quality is high, and there are no risks, Refurbed gives 30 days of free trial and a one year warranty. But since refurbished electronics only save around 70% of the CO2 emitted to produce new products from scratch, Refurbed plant one tree for every purchase to reach the last 30 %.
Matter is a Danish online pension platform that wants to change how we invest and screen towards more sustainable investment strategies. 86% of millennial investors are interested in investing sustainably, but banks and pensions companies still highly recommend investing in fossil fuels. Matter has already landed a partnership with Skandia and launched an online sustainable pension plan for individuals and companies with full transparency, and an overview of your personalized impact.
See Also
Medusoil is a Swiss biotech for geotech company that has developed a liquid agent that turns soils into stone to stabilize landmasses and thereby creating solid earth to build on. We humans often take the state of things for granted but with the changing climate, we experience more severe droughts and more massive floodings wreaking havoc to our cities and infrastructure. Medusoil's technology reproduces and stimulate an organic mechanism already occurring in nature. The reactive mix works with every type of soil in every condition and has been patented, stress-tested and is certified under extreme environments in coastal, river, and urban zones.
London-based Urban Electric works on getting more electric vehicles into cities. The barrier today: charging. It is either scarce, takes up space on sidewalks, or is hard to scale. Urban Electric wants to build the world's largest urban EV charging network starting in the most polluted cities. Their solution is an app-operated pop-up charger with 7kW fast charging that hides in the ground minimizing street clutter and the impact of space.