Radiant Games encourages kids to code with release of Box Island
Radiant Games, an Icelandic mobile gaming startup, just released its full-length title Box Island: Epic Coding Adventure. The release closely follows an earlier release of a shorter version of the game, specially released for Code.org's Hour of Code events this week, part of Computer Science Education Week, held December 7-13.
This article was originally posted on Nordurskautid, Iceland's premier outlet for news and discussion about the Icelandic Startup and Tech scene. Follow them on Twitter here.

Code.org is non-profit organization which is, according to their website, "dedicated to expanding access to computer science, and increasing participation by women and underrepresented students of color." It's supported by many known companies and individuals from the tech industry, including Bill Gates, Mark Zuckerberg, Google and SalesForce.
Over 100,000 Hour of Code events will be held globally during Computer Science Education Week, which is December 7-13. There are already over 76,000 events registered for the Computer Science Education Week this year.
Teaching coding through gameplay

In the game, players take part in a journey to the mysterious Box Island, using and learning the basics of algorithms, pattern recognition, sequences, loops and conditional statements. The game's objective is to enable kids to learn the fundamentals of coding through an engaging experience, through 100 levels of gameplay.
Vignir Guðmundsson, CEO and co-founder of Radiant Games, says it's humbling to see kids gain coding understanding playing the game. "It sometimes feels like magic," says Vignir. "We test a lot with kids and to see them gain basic skills within an hour is amazing."
See Also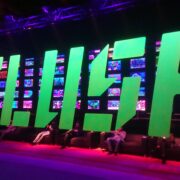 Vignir and the rest of the Radiant Games team are now in the US following up with the Hour of Code version of Box Island, during Computer Science Education Week. "We'll be doing school visits in New York and Washington D.C., attending the Kick-off event at NASDAQ in New York hosted by Google, Microsoft and code.org and a Tech Jam event at the White House in Washington D.C," says Vignir.
You can download Box Island: Epic Coding Adventure (iOS) and Box Island: Hour of Code (iOS | Android) in their respective app stores.
Norðurskautið covers the Icelandic Startup and Tech scene. Follow us on Twitter or sign up for our mailing list to keep up to date. You can also join our Slack community – http://bit.ly/slack-is