Nordic startups building radical transparency into tech
Getting through the Nordic winter is trying at the best of times. The previous months have provided few hours of sunshine but an infinite amount of "recommendations" (it is to date not legal for the Swedish government to e.g. enforce a lockdown) formulated in almost as many ways as there are media outlets. The Nordics are the societies in the world with the highest level of trust in its authorities but many are currently overwhelmed, unsatisfied and generally confused. 
In the initial phase of a crisis (e.g. a pandemic), news consumption and eagerness to find facts skyrocket, but in quite a fast pace the human brain longs to normalize things and return to entertainment and pastime (BBC). Now a year on, having finally reached the finish line of the US elections, the news cycle that has all but gotten into a rut of increasingly alarming headlines pointing in several directions. At a time when it is crucial for our own and our loved ones safety that we stay updated, we need help to sift through it all.
"There's an app for that" is one of my favorite taglines and while this may not be altogether true, there are indeed Nordic startups working to solve some of the issues around this. Building what one might call our *radical transparency* into digital and tech.
Let's take a look at a few of them!
Swedish Newsvoice helps you find trustworthy news sources
In the US, nine out of ten news stories are controlled by only five corporations. In Sweden 80% consume news online according to the annual report The Swedes and Internet (SI), to which extent they are aware of who stands behind these news sites (or what the definition of a news site is in this day and age) is not clear. Unbiased news with no political leaning, and different perspectives, is exceedingly difficult and time-consuming to find. What Newsvoice does is give you a personalized news feed by aggregating major news sites, as well as international and independent media. Each news story shows multiple perspectives and sources, empowering you to make more conscious decisions of what you read and, perhaps more importantly, what you trust.
Planethon's "Pacer Program" creates the post pandemic influencer in Sweden

A popular topic during spring was prophesying, debating and even encouraging the death of the influencer (Wired). Since long a steady component in our everyday lives, statistics say 8 out of 10 consumers (Rakuten Marketing) have purchased something after having seen it as a recommendation from an influencer – the power they hold to impact is remarkable. Planethon believes that influencers can be a transformative force for good. Both the Corona and the Climate crises are long distance races, impossible to opt out of. However, the choices we make and the new behaviours we develop as a result of either of them, can be used to meet them both. Based on this belief, Planethon created the Pacer Program, turning people with platforms into "beacons of informed hope" by connecting influencers with scientists and experts.
Finnish Saidot AI standardizes transparency
A leading platform for AI transparency, explainability and communication, this team is looking to bring transparency to algorithmic consumer services. The way it works is that algorithmic systems are registered and given unique identifiers on the Saidot platform. This creates an "AI register", a complete and systematic view into an AI portfolio, regardless of underlying technologies and partners. It is a basis for systematic governance and transparent communication. Ultimately, they hope the transparency will initiate a dialogue between customers and their suppliers, and result in continuous improvement.
See Also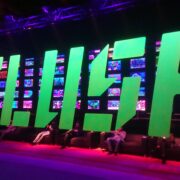 Swedish Netclean disrupt the spread of child sexual abuse
Combining world-leading technology with a thorough understanding of how child sexual abuse material is disseminated online. They provide businesses and organisations with technical solutions that disrupt the distribution and consumption of such material, and protect IT environments from being used for illegal activities. Raising awareness and sharing insight is key to them and they recently launched their 2020 report on the subject.
Sounds interesting? You can get to know them even better if you join in on the IWD celebrations March8, where entrepreneurs from each of the above will share their thoughts.
You can register for a free ticket today.