How can the Nordics best compete on the global event stage?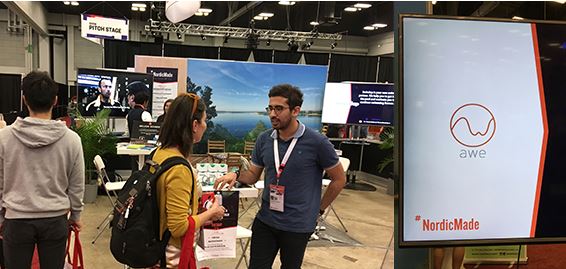 In March 2017, #nordicmade companies took over SXSW at the #nordicmade booth.  With a helpful boost from the Rising North fund, the #nordicmade program included a pitch night, an investor dinner, a partnership with the John Lennon Educational Tourbus and a SaunaBus from Finland. However, it was a challenge for the Nordics to stand out in a sea of thousands of companies and compete with other regions for attention.
"It is extremely hard to stick out at SXSW. Everyone, small and large budget, tries their best. So to be honest I think the smartest for a European upcoming brand is to look for and get inspired by the best campaigns at SXSW – and then adapt it to your own campaign at other smaller and more niche events relevant to you later in the year. Learn from the best and bring it to your own audience," says Patric Palm, an SXSW attendee and CEO and Founder of Favro, a cloud-based planning and collaboration app for agile businesses.
Country-specific branding is one way to stand together and make an impression at the festival, and each year sees countries try to outdo each other with booths espousing local flavor and values.  One popular  example of this was Reeperbahn Hamburgers. Hamburg startups have previously made a splash at the festival, with Spheri winning the pitch competition in 2015.  This year, SLUSH finalists Baqend joined NÜWIEL, Picalike, and LifeTime among other startups being given a boost. NÜWIEL received third place at the Food+City Challenge in Austin, and participated in Smart City Day during SXSW.
Michael Otremba, managing director of Hamburg Marketing GmbH, says, "The Reeperbahn Hamburgers' event stands out as it demonstrates just how unique and creative our city really is.  The interest in Hamburg-based companies…and the great media interest generated on-site just goes to confirm that even at an international creative hotspot like SXSW, we are able to attract a great deal of international attention."
Spots like Reeperbahn Hamburgers have a track record of attracting investors simply by virtue of being a cool hangout spot.  Rudy Garza of G51EDU, a veteran attendee, has seen it's impact firsthand:
"We have participated with SXSW German startups for several years now. My feedback is that both the quantity and quality is making strong headway. When you combine the speed in which technology companies at scale are moving into global markets and the continued interest in European technologies, I'd say Germany has firmly planted it's flag as a market to watch."
Embrace the spirit of the event
Another way to promote the Nordics is for Nordic brands to throw caution to the wind and embrace the spirit of the events they participate in.
Sweden's Spotify is one of the most successful brands at leveraging music-based global events.  At SXSW, the company positioned themselves as a necessary tool to discover and attend music performances around the city.
"The SXSW GO app was great not navigate the massive amount of things going on and Spotify music discovery was integrated making Spotify the brand I for sure interacted with most," says Patric Palm.
This method has been seized most enthusiastically by US brands, who often leave bigger impressions at Europe-based events than local companies.  Key to the success of on-site branding is the tried-and-true method of product demonstrations.  "How do you stand out at SXSW? It seems almost impossible –  but what made the biggest impression on me were the offsites like the WPW factory and the Youtube house, where you got to actually interact with different products," says #nordicmade SXSW participant Sandy Errestad from Minc, an entrepreneurial space in Sweden.
Attend to connect, not advertise
Perhaps without greater backing from the public sector or big corporate investors, the best tack for Nordic startup founders attending international events is to simply embrace them as an opportunity to connect, network, and be inspired.
See Also
"It is a very 'fast' environment," says Peter Greén, founder of the Finnish startup Rehaboo.  "The best thing about it is the constant feedback."
Thomas Badinand, founder and CEO of the Swedish startup Swimlap, also found the greatest value of SXSW was networking:
"The best value of SXSW is to be surrounded by many people from the startup industry, confronted with the same everyday problems.  Everywhere, in every discussion, you learn something about how to do things, learn from the errors of others, think differently, get feedback on your own ideas, and so on.  The climate is very openminded and everybody is very open to feedback and sharing experiences."

"Lots of information and experience can be gained from the sessions, but at least as much can be gained from discussions at parties, coffee queues, and even in the sauna. I have met potential customers, started many discussions with people sitting next to me in sessions, and went to the pitch and investors events."
Frederik Wollsén from Swedish AI startup Clerk.AI agrees. "SXSW is a magical place.  Void of unfriendly characters and rich in creative, social, intelligent folk with whom you will end up remembering for years because of the unlikely situations that happen all the time there.  There is no better forum to unleash discussions on how we want to shape our future, and what position we should be in as entrepreneurs to make the most of it," he says.