Aldin Dynamics VR games and tools serve an industry dying for deep content
Reykjavik-based Aldin Dynamics was born in early 2013, just in time to join the Icelandic Institute for Intelligent Machines startup accelerator program.  Since then, they have been working deep in virtual reality (VR).
"We build our content from the ground up for VR, and it's meant to be experienced that way.  There are just so many different, unique mechanics that are completely unique for VR that do not translate to other mediums, and we want that power in our products," cofounder Hrafn Thorisson said in his speech at Slush Play in 2015.
In July 2013, Aldin released Trial of the Rift Drifter – the first Oculus Rift game that enables communication with characters through head gestures.  For a just-launched company, it was a massive win to get featured by Oculus VR as part of the official launch content distribution platform, Oculus Share. In March 2014, Aldin and Oculus entered into a formal partnership.
In late 2013, Aldin launched its first commercial product, Asunder, and sold more than 1,000 copies in the first 12 weeks.  It was a few years before the VR craze became global.  The game introduced numerous novel game mechanics for VR by utilizing behavioral mechanics and character AI to drive suspense and immersion.
The team has started to turn its deep technological work into a product it can sell. From the beginning of 2015, the Aldin team has been working on a large-scale analytics and visualization solution for VR that addresses a broad range of content design challenges.  The appropriately named Ghostline was awarded a $340,000 development grant from Iceland's Technology Development Fund to take it to the market.
"We see a lot of commercial potential in licensing our technologies alongside our content," Thorisson said.  "The main risk is how long it is going to take for the consumer market to grow, however we do know that there are a lot of developers out there who need tools to help them build content.  We have an industry that's really dying for deep content." And by working on their own products, they gave created technologies that other developers use to make design decisions faster and more reliaby, decreasing the time required to manually investigate the impact of a VR experience and increasing free time for innovation.
Innovation is desperately needed for VR to become more than the current hype across the technology world.  As the Aldin team puts it, for the current status of the industry:
See Also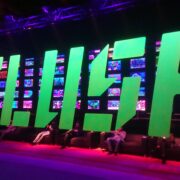 "For the first time in history, we are truly entering virtual worlds, no longer represented by mouse movement and button presses. With modern VR input, we are finally gaining physical representation within software, offering unprecedented freedom for human expression and interaction.  We are a came company, and that's where our technologies come from.  We want to build great VR products, but alongside that we are developing those technologies and we can apply them pretty easily to user testing and to drive the real-time game growth feature."
This article was originally  posted in #NordicMade Magazine.