Danish app saves lives in refugee camps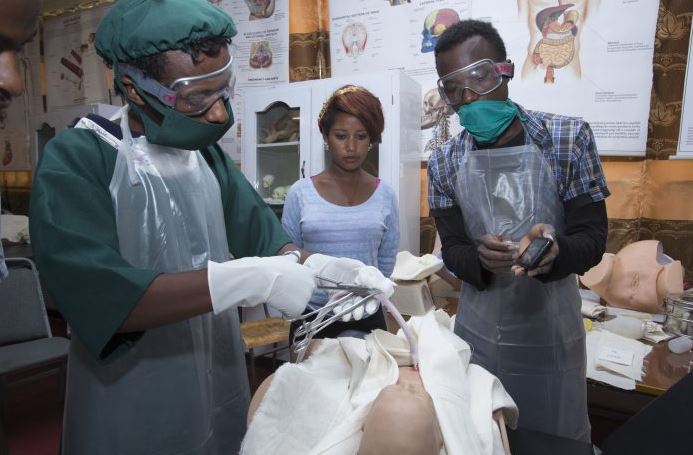 The two Danish NGOs, the Children's Fund and the Maternity Foundation have just received 4.2 million kroner to reduce the number of mothers and infants who die during and after birth in refugee camps in Ethiopia.
The Danish-developed Safe Delivery, developed by the Maternity Foundation, will provide 50 local midwives in seven Ethiopian refugee camps with clinical training and teaching via their mobile phone. They will learn to deal with complications that can arise in connection with pregnancy and childbirth.
The crisis in southern Sudan has created massive challenges in the western part of Ethiopia, where more than 320,000 refugees have crossed the border. These circumstances make it dangerous for women to become pregnant.
"It is estimated that 60% of maternity deaths occur in humanitarian environments or during flight. If you do not come to pregnancy visits, you will not identify complications that can become fatal. Therefore, local midwives in refugee camps must be trained in acute situations," says Anna Frellsen, CEO of the Maternity Foundation.
Cost-effective solution
Seven Ethiopian refugee camps see about 6,000 women each year. Therefore, it is crucial that their health systems are strengthened.  Safe Delivery can make a difference and help local midwives gain necessary skills.
"Teaching is done through instructional videos and step-by-step instructions, which describe, for example, how to revive a newborn. Experiments have shown that the app has a great effect," says Anna Frellsen.
The solution also creates long-term value, as midwives have access to life-saving guidelines and instructional videos at their clinics after the training finishes. This means the app has a number of advantages over more classical solutions.
"An app solution is significantly more cost effective and agile than if we were to be present physically and teach the locals. But it is important to emphasize that this has only succeeded because we have good cooperation with the UN and the Ethiopian authorities coordinating the efforts in the camps," says Anna Frellsen.
Can withstand the distance
According to the Maternity Foundation, 99% of deaths among infants and their mothers occur in countries where people on average have low and middle incomes. One of the countries that is particularly hard hit is Ethiopia. Average infant mortality is much higher than the UN's declared sustainability target of reducing infant mortality to less than 12 in 1000 live births. According to UN figures, the figure was nearly four times as high as 2015.
The Maternity Foundation estimates that more than 90% of deaths worldwide can be prevented if there are competent doulas or midwives present during birth.
Since 2011, the Maternity Foundation, the University of Copenhagen, and the University of Southern Denmark have developed and worked on the Safe Delivery App. It is currently in countries like Kenya, India, Guinea and Benin. In Ethiopia, it is being introduced for the first time in a refugee camp.
"The experience we have with the app in other developing countries is a great advantage now that we are launching it in a humanitarian context, in collaboration with the Children's Fund and other partners," says Anna Frellsen.