Finns take over SXSW Interactive
The annual South by Southwest festival (aka SXSW) kicked off on

Friday

, and for the 7th year in a row, Finns are going over to Austin, Texas to show what they're made of. The rest of the Nordics will also be represented at the Nordic Lighthouse.
SXSW veteran Peter Green together with Pekka Pärnänen and Team Finland's Hartti Suomela are co-ordinating the Finnish SXSW 2016 program. Team Finland is supporting the Finnish creative industries within Music, Film and Interactive technologies at 2016 SXSW festival, with close to 30 companies and 100 people joining the Finnish crew, making this year SXSW the biggest ever for Finland.
This is no surprise, as 4 of the 5 top US crossover apps this year were made by Finns and Swedes.
SXSW (based in Austin, Texas) started off in 1987 as a music festival but has since grown to encompass the music with film, tech/interactive and more recently healthtech, edtech and gaming. Every year over 100,000 visitors and participants cram the halls to watch bands and movies and listen to a wide variety of panels covering the above mentioned things.
Team Finland is part of the Nordic Light House, an initiative with joined forces of all the Nordic countries by Nordic Innovations hashtag #NordicMade. It will be over 100 companies and approx 1000 people coming from the Nordic countries.
The Nordic Light House is located by the water, just few minutes from the Austin Convention Center (SXSW main arena) with loads of daily program covering all the aspects of SXSW:
As Peter Green explains "Nordic innovation is definitely on par with that of say, the U.S. but sales and marketing in the U.S. is far and beyond our level, at the moment." The Nordic region isn't always known for beating its chest proudly concerning its accomplishments, but the Nordic Lighthouse collective aim to make their voice heard above the racket. "We are going over there not to yell but to speak out loud" Green says.
See Also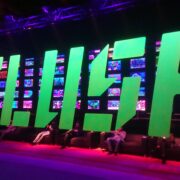 Check back the Nordic Startup Bits site often for short updates and guest blogs from the show, and follow Nordic Light House Facebook and Twitter pages for ongoing updates!
Follow the Nordics at SXSW interactive on Facebook and Twitter.