Insights from the Games Business 2015 Conference
Organized by Shareplay, Interactive Denmark, and us, NordicGameBits, Games Business 2015 was Denmark's largest games industry conference for all Nordic game developers. Today, we look back at the conference, and share some of the best insights.
On Monday December 7th at 12:30, industry professionals from Denmark and the rest of the Nordics gathered in "The House of Music" in Aalborg, Denmark, and the Games Business 2015 conference kicked off In total, more than 100 people attended the conference, which saw both Ex-King.com "Game Guru" Tommy Palm and Interceptor Entertainment CEO, Frederik Schreiber take the scene, among many other speakers.
Throughout the conference and the following networking session, the attendees and speakers discussed everything from future monetization strategies to new platforms such as VR, and the emerging markets outside Europe / US.
For those who didn't get to attend this year, several of the speakers have agreed to share their speaker slides. Check out the slides from: Mihai Gheza (and the tool he showed in the browser), Frederik Schreiber, Christine Thaarup, Rune Drewsen, and Steffen Kabbelgaard. Feel free to download them and share them with your friends and colleagues.
See Also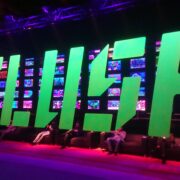 You can also see images from Games Business 2015 right here.