New Danish social app IUSO gets massive support on Kickstarter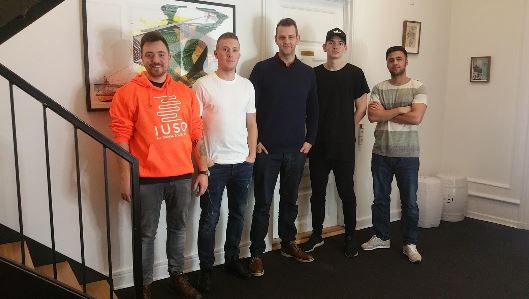 The world's biggest internet portal for crowdfunding seems to be the perfect platform for 5 Danish entrepreneurs. Just 24 hours on www.kickstarter.com, where anyone can choose to support creative projects with money or purchases. The team has already accomplished to raise 20% of the money they need in order to realise an "App" called IUSO.
By Christoffer Tybjerg
I stands for "I", U stands for "you" and SO stands for "social" – which put together represents IUSO. The app, which you can support now and read more about on KICKSTARTER, is supposed to amplify finding people to be social with.
The team behind question the great paradox of social media, in which it makes us more social or if it in fact makes us less present in the moment and less active in the physical world. They want IUSO to be the answer for a social media which in fact is about being social.
IUSO is helping you whether you're searching for party guests, a travel companion or someone to play golf, chess, football, tennis or something completely different with. Activities are just more fun when shared, and the app, which is getting funded, helps you exactly with finding like minded people.
The demand is high, and it seems that many people can relate to the situation, of being in need of company. For that very reason, IUSO have had a super start with the crowdfunding, which you'll find right HERE.
But it doesn't stop here. They have developed an adventurous gaming universe integrated in the apps social function. You'll be introduced to your very own avatar, which based on an algorithm with 12 billion combinations evolves specific for you, drawn from how you play and which activities you follow.
The team behind IUSO is 5 guys from Copenhagen, and they've all experienced the lack of finding new friendships now and then. That led them to this idea, which apparently is getting a lot of attention on KICKSTARTER.