Sensative turns magnetic strips into smart home security system
Sensative AB has created the world's thinnest wireless magnetic sensor, called Strips, which can be placed invisibly on windows and doors to create a smart home security system.
Sensative AB's founders mostly come from a background in mobile technology – in fact, the company is based out of Mobile Heights Center in Lund, Sweden.  However, their first product, Strips, is in the Smart Homes business, using mobile technology as a platform for a better home security system.
Founders Fredrik Westman and Anders Hedberg met at an innovation competition hosted by a Scandinavian window and door manufacturer, with an initial aim of connecting windows and doors to create a smarter home.  After CEO Mats Pettersson joined, the company began entering the smart homes market in earnest and building their security platform.
After wrapping up a crowd funding round on Indigeogo with over 265% of their funding goal in early October, Sensative has been ramping up their development of Strips.
How tiny magnetic sensors provide home security
Many home security systems rely on motion sensors to detect if someone has entered into your home.  These can be prone to false alarms (by pets, for example), run out of batteries often, and can be difficult to install and complicated to connect.
Strips, by contrast, is a mere 3mm thick (< 0,12 inches) and comes with a battery life of up to 10 years, significantly more than the industry average for sensors battery life of between 2 and 5 years. The product is very simple to use; there is no need to drill into doors and/or windows for a proper installation. Instead,  an adhesive to paste is used to stick the sensors on top or side of a window or a door.  It sticks almost as easy as a sticker and works well in both hot and cold environments.
Strips uses a magnetic sensor to sense if a window or door is open or closed, and alerts you on your phone, tablet, or computer if something unexpected happens.  If you choose to put Strips in every window and door, you get a full perimeter protection of your home. Strips is connected with other smart home devices using Z-Wave, an established smart home technology.  Strips is also CE certified, so it can be easily sold in the European market.
Securing a place in the market
See Also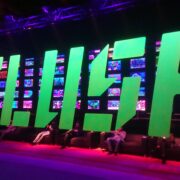 The team is currently busy producing and delivering  the crowd-funding campaign orders before going mainstream early next year.
The company was also invited to present their products and business model at Web Summit in Dublin in early November 2015, one of the largest tech conferences in the world,  and was nominated in the Sectech awards for the best alarm and detection product.
For the future, Team Sensative is working on  adding new functionalities to Strips, such as a temperature sensor that could be placed discretely in a room, in order to help the customers reduce their electricity bills.  Although their Indiegogo campaign wrapped successfully, you can check out their video below: