Slush 2022 impressed the first-timers from near and far

As an event, Slush succeeds to impress all the attendees, even those Teflon-surfaced veterans, who have many previous Slushes on their belt. So it is no wonder, that the first-timers are generally astonished what comes to the atmosphere, solid arrangements, and the solid flux of meeting interesting people, especially  new ones.
Deirdre Mc Gettrick from U.K. was attending Slush to prepare the future fundraising round for her company ufurnish.com
"I was a first time attendee at Slush. I came to meet investors ahead of future fundraising. The events across the conference are a mixture of organized events and relaxed "bump into people" events."
Deirdre says that she met 60 key people, from hour conversations to brief introductions.
"Those meetings I will follow up with. The ability to connect to 60 people across 3 days is unparalleled. It's a fantastic event for early stage businesses to make investors introductions", says Deirdre Mc Gettrick, Founder and CEO of U.K. based ufurnish.com.
Livediili duo was happy with the results

Ari Koski and Jaakko Tolonen were representing their Oulu, Finland based company Livediili at Slush 2022. They arrived to Slush being hopeful that they could find some investors.
"We didn't go there for anything else. As first-timers, we didn't really know how to do that, I mean, whether they even make deals right away, or just contact", tells Ari Koski, CEO of Livediili Oy.
Ari Koski and Jaakko Tolonen agree that the results
exceeded their hopeful thinking.
"We had about 20 meetings of which about 15 were with investors, and we received very positive feedback on our product and a lot of interest what comes to investing. In the future, our plan is to contact them here right after the event", summarizes Jaakko Tolonen, Chief Innovation Officer and Chairman of Livediili Oy (left).
"For us, as a first-timers, Slush was really convincing. We felt very small there, but at the same time we felt to belong right there, and hopefully in a year we will also be a bigger player in the market."
"It was great to visit different booths and hear other entrepreneurs' plans. Unfortunately, we didn't have time to listen to any discussions or watch the show, but surely we will do so next year", conclude Ari and Jaakko.
Recession was a hot topic in discussion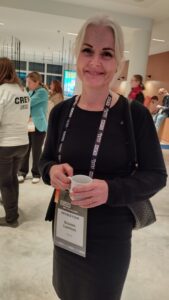 Suzanne Lauritzen, CEO of raffle.ai is based in Copenhagen. She sees a great value in attending Slush 2022:
"Those great talks with other attendees I found extremely inspiring. In particular I liked the underlying element of 'Don't fuck up a perfect recession'. There are lots to benefit from during recession and navigating through it in the right way, will make us at raffle come out stronger."
Suzanne Lauritzen (photo right) brought three key insights and learnings home and started up the process immediately with the teams at raffle.ai.