Travel destination portal WTF Travel wins Sweden's first ever travel-tech hackathon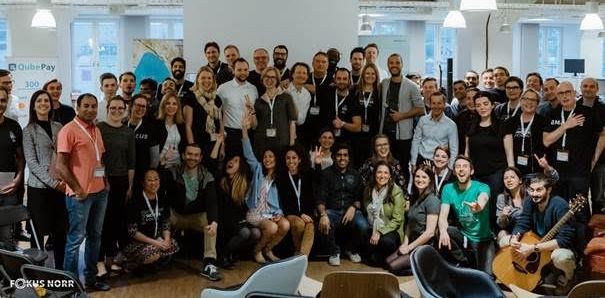 Last weekend, Sweden's first travel hackathon, Startup Weekend Travel Edition, took place in Stockholm. The event was arranged by the global entrepreneur network, Startup Weekend, with Amadeus as the main sponsor. During 54 intense hours, over 60 participants developed business ideas for the travel industry, while networking with leading decision makers, as well as industry and innovation experts.
During the last day of the event, 10 teams pitched their ideas to a jury consisting of experts from the travel industry and startup community. The winning team was WTF Travel, who developed a search solution for individuals not knowing where to travel.  The company is aptly named to help tourists answer the question, "Where the fuck should I travel?!" by providing users with a specialized search portal that guides users to destination that fits their needs based off initial flight suggestions.
"It was incredibly rewarding to come up with an idea and let it take shape under such a short period of time. The atmosphere was great during the weekend and we learnt a lot from both the mentors and the other participants. Our goal with WTF Travel is to inspire travelers and we look forward to keep developing our startup," says Love Dager of WTF Travel.
WTF Travel will be offered coaching from Amadeus Innovation Lab and Amadeus Ventures, access to Amadeus' technology, as well as possibilities to validate their solution and business model with support from Amadeus.
Other teams that were acknowledged during the event were PubGlo, who created a a service that makes public transportation easier for tourists, and FlyTick, who offer travelers discounted prices on empty airplane seats during a time-limited period.
Travel-tech growing in the Nordics
Alongside Iceland's popular travel-tech incubator, which seeks to help alleviate issues the country's citizens and infrastructure face from it's massive tourism, the Startup Weekend Travel Edition Hackathon is part of a growing trend in travel-tech in the Nordics.  In the long run, events and initiatives around travel-tech are aimed to help the startup scene tackle both the customer-facing side and back-end technology of the travel industry with new solutions that come from the buzziest technology:  IoT, Blockchain, Augmented Reality, and Virtual Reality.
"We have received amazing response from all the participants, mentors and sponsors. It is clear that the travel industry was lacking a hackathon and Amadeus are happy to have had the opportunity to participate in arranging one. We want thank everyone who was involved," says Jesper Söderström, CEO at Amadeus, in a press release.