Falcon.io: Selling shovels in a social media gold rush
The legend says that in 2010, there was only Ulrik, a team of four, two laptops, and big dreams to tackle the social media market of businesses.  Thus was the unassuming start of Falcon.io, now one of Denmark's most promising and successful startups.
To be honest, Ulrik Bo Larsen had pretty well built himself up for founding Falcon, a software platform that allows marketing departments of corporations to create, launch and measure social media campaigns in real time.
He had founded and run a digital agency Mingler, producing data-driven social campaigns for a global audience, and had created the first Scandinavian social network and lead it to a successful exit. He had already worked with global clients like Carlsberg.
The underlying market was also becoming ready – Facebook said in July 2010 that its number of users topped 500 million and half of them were using the social network daily.  Valuation of Facebook was already at 41 billion dollars and the investors were keen to jump on the social media train.
In 2012, Falcon raised its first external investment – 1.33 million dollars from Danish investment firm NorthCap Partners.  At the same time, Facebook users reached 1 billion and the firm was valued at 104 billion dollars when it hit the stock market in May, marking the highest even valuation for a newly-listed company.  Twitter reached 100 million users and social networking was suddenly the main topic on business pages.
Increasingly, that started to grow corporations interest in social media management tools.  In 2013, Falcon raised 6 million Euros in a series A round, giving the company a "nice box of building blocks to play with," as Ulrik described it at the time.  The new blocks helped the firm to achieve 44.3% revenue growth in the following year and the firm also opened its office in New York.
In March 2015, Falcon raised 16 million dollars in a series B round, a large investment for any Nordic company. At this point, the company already had more than 400 world-renowned companies – including Coca-Cola, Jaguar, and Warner Music – using its software platform to listen, engage, publish, measure, and manage their social media content.  "There is a void in the market for a scalable social media SaaS platform capable of unifying business units within the enterprise while delivering feature-rich capabilities.  Our goal is to continue to evolve Falcon Social to meet that need by growing the platform organically.  The new financing will help scale the business and accelerate our product development roadmap," Larsen said at the time.
Some research firms have forecast the market for corporate social media tools to reach 10 billion dollars in the near future, bu taking into account hundreds and thousands of competitors popping up, it could already be larger.
How does Falcon stand out?
Being early and being global – now with several offices in Europe and the Unites States – surely helps somewhat.  Working closely with global brands is also helping.
See Also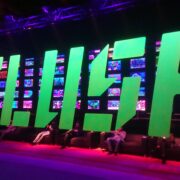 In a recent interview with Forbes, Larsen compared the Falcon platform to Salesforce – a collaborative and flexible tool which goes beyond scheduling, reporting, and analytics, to making things happen in business.
On how the platform is used, Falcon shares many case studies on its website.  We look into one of Denmarkøs most global brands, Carlsberg, which manages over 500 beer brands around the world.  They used Falcon to consolidate 90 separate social media accounts.  The big challenge was making all the separate brand managers work together.  "Everybody was used to having their ow page, so nobody told them what to do," said Martin Majlund, Marketing Technologist at Carlsberg.  "So Suddenly a few people from one group were telling them what to communicate and what not to communicate, and we took away some privileges."
Carlsberg has some 360 users working Falcon in 49 countries by integrating 106 social channels. "With Falcon Social, we have one point of entry for all our markets to moderate, listen, plan, and schedule distribution," Majlud Says.  "All the big brewers are fighting for social media right now and we want to win that battle."
It surely is a good place to be – deep in use by global corporations across their marketing functions.