Finding "the one" at Arctic15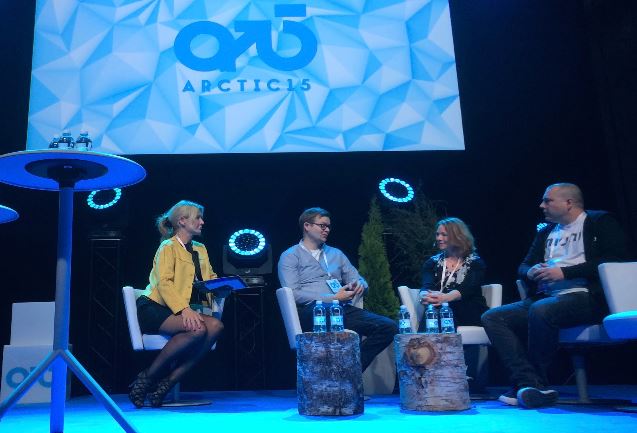 Last weeks Arctic 15 three day event succeeded in offering a glimpse into the bright future of the Nordics as hundreds of investors, startups and corporates converged once again in the familiar old industrial complex of Kaapelitehdas the 'Cable Factory' in western Helsinki.
Arctic 15 has grown steadily since its first event in 2011 and has a strong impact on the startup climate here in Finland, even the sunny weather was influenced by an arctic chill wind, but that could not quell the enthusiasm of the attendees.
Finding "the One"
Arctic 15 sells itself on getting the maximum return on investment for attendees, highlighting the importance of preparing (yourself) in advance, signing up for the well organised meetings in the dealroom, then meeting new people within the relaxed networking vibe. "Find the One" was the slogan this year. I think I found several.
You want themes? We got themes
Arctic 15 CEO Dmitri Sarle had warned in his welcoming words to the international audience, that it was not all about the stage and speakers, but in interacting with others. Whilst a stage at each end of the main floorspace competed for audience attention, in between these were a wide range of promising startups and local ecosystem enablers demoing their services and solutions. Add to this the excellent free-flow coffee and food, and you have the startpoint for a productive event.
The event App did a good job of visualizing the parallel stage events and notifying of upcoming sessions – fireside chats with expert panel discussion or speaker presentations – allowing the attendees to glide through the venue to catch insight, get ideas and new inspiration.
The overall event themes ranged from Finance (Angel, VC investments, Crowdfunding), to Health, Wearables, IoT and much more.
Access to investment was a core topic running through the program, typified by the  European Investment Fund who presented an overview of their new business angel co-investment program (EAF Finland Fund) launched Wednesday from Finland. Local news agency YLE picked up on this 30 million euro fund launch.
The art of the deal room
Billed as the most effective matchmaking startup event in the Nordics and Baltics, the upstairs part of the main hall had almost fifty numbered tables neatly arranged each with four chairs in preparation for the non-stop series of twenty minute pre-booked meetings held each day. This well-oiled matchmaking machine ran for the three days and accommodated several thousand face to face meetings.
There was extra space for additional ad-hoc meetings for those who had not pre-booked and another area for speed dating sessions of five minutes each which were well managed and attended throughout the event.
It was during one of these sessions that I met Marc Dillon, the ever-present Finland based entrepreneur of Jolla fame, and now CEO for Asmo Solutions whose second Indiegogo crowdfunding campaign just kicked off. By leveraging the skills of Finnish design icon Eero Arnio, they bring fun to wall-plug chargers combined with Finnish engineering savvy. They are hoping to emulate their first product success – the smart Asmo Charger which successfully aired two years ago on the same crowdfunding platform.
Pitch perfect
The Arctic 15 Microsoft Pitching session comprised fifteen startup hopefuls who had been pre-selected by public voting during April, down from the original TOP30 nominations. Each had their turn and the final  three pitched late on Thursday. The winner was Mightifier a Finnish Edtech startup focused on social emotional learning – helping to give positive feedback to kids from classmates. Pilots have already shown positive feelings and reduction of bullying. The other two finalists were: Talent Adore (human touch in recruitment) and Zero Keyboard  (an intelligent mobile assistant for CRM). The Pitching was hosted by Claes Mikko Nilsen Network Manager at very active local angel community FiBAN.
Workshops
As if the main program and above activities weren't enough, the event kept giving and there were eight optional workshops each day covering diverse topics such as cross border investment, expansion to different global markets (USA, LATAM), legal advice, scale-up advice, pitching guidance and communications/PR tips.
Business opportunities around VR, AR and MR.
The third and final day was billed as X Reality Day and provided a practical dive into these hot (and much hyped) topics. It was a truly immersive experience supported by FIVR (Finnish Virtual Reality Association) and  many hands-on demos. FIVR maintain a helpful list of Finnish companies working in the field.
The Future is (almost) here
Clearly the future applications for VR, AR and MR (Mixed Reality) are vast and whilst partly hyped, there are now concrete implementations found in real estate and architecture, industrial maintenance, education, travel and games. Get your thinking hats on or perhaps allow a mind-reading headset to do it for you – our imagination will be the only limit as technology continues to develop at such a pace towards fully realistic new experiences.