Finnish startups attract the most VC funding in Europe
In 2016, Finnish startup and early stage growth companies raised the second highest amount of venture capital funding in Europe when looking at investments as percentage of GDP. The investment amount was almost twice as large as the European average.  Sweden and Denmark are also among the top countries attracting venture capital.
Finns can be proud of their rank in the longer term: Finland takes the first place in European venture capital investments between 2012-2016, surpassing known startup giants like Sweden and Ireland.
"Being the European champion in venture funding is the result of hard work put towards building growth", tells Pia Santavirta, managing director of Finnish Venture Capital Association (NVPI). "Many new private equity funds have been started in Finland lately. This will help more growth companies to succeed."
According to Santavirta, the next step is to bring larger Finnish private equity and venture capital funds to the market. "Strong local funding ecosystem allows more Finnish growth companies to be able to raise bigger rounds", she states.
The statistics of Nordic Venture Network – the club of leading technology venture capital firms in the Nordic region – show that venture capital investments in startup and growth stage firms outperformed the public market equivalents like the NASDAQ-100 in 2016.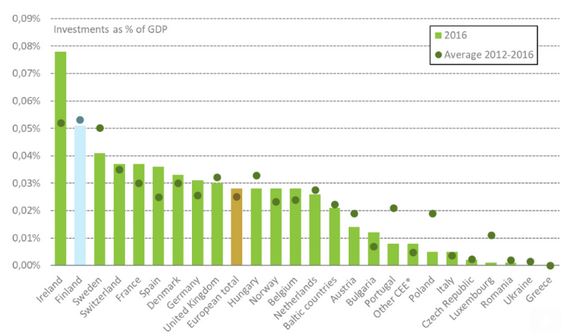 The statistics are based on the Nordic Venture Performance Index (NVPI), which delivered a gross return of 9,3 per cent in 2016.
The NVPI includes eight venture capital firms, 32 funds and 609 portfolio companies.
As reported by the Nordic Venture Network, Nordic venture capital investments have delivered superior return in the long run.
"Success is evident in the 'Long Only' Total Gross Return index. The index measures the value achieved by re-investing potential returns, much like stock dividends can be reinvested in the market", says Jari Mieskonen, chairman of Nordic Venture Network and managing partner in Conor Venture Partners.
"The index shows that one euro invested in 2005 was worth nine euros by the end of 2016," Mieskonen adds. "The best comparable public market equivalent only grew to 3.5 euros in the same period."
Save