Last-minute event booking becomes easy with Spontano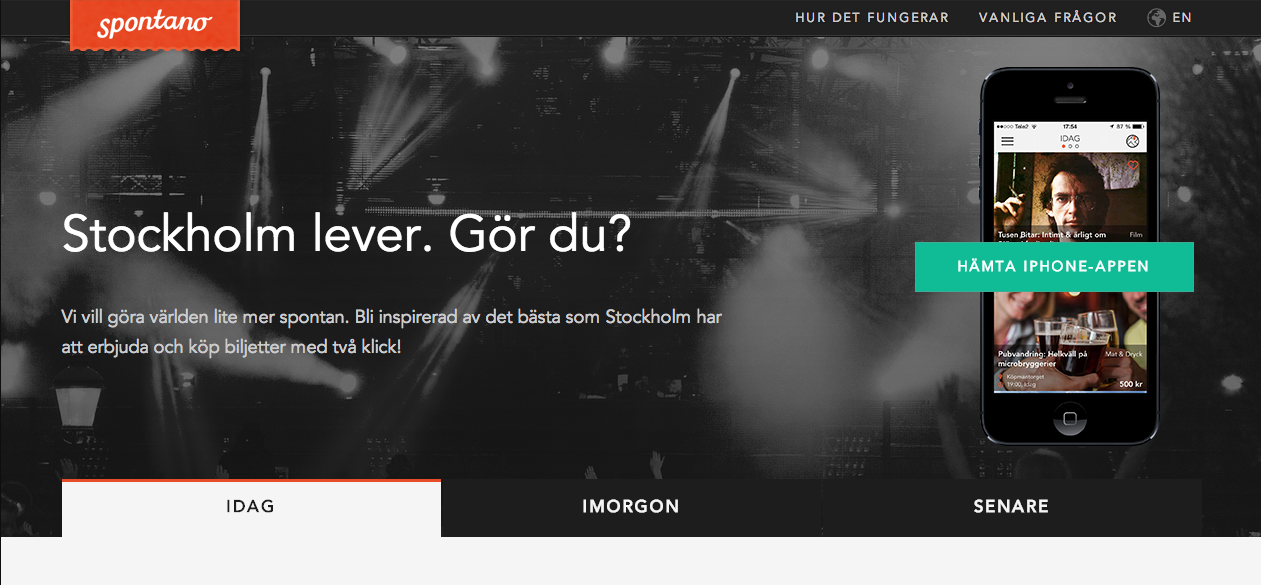 If earlier today you were not planning on going out but now have a sudden change of heart and don't feel like wasting another evening sitting on a couch – then Spontano will be your next favorite app!
With the help of Spontano residents and visitors of Stockholm can experience the city without planning ahead. The service offers a selection of the best events and activities in upcoming 48 hours and enables ticket purchases in two taps on an iPhone or on the web. Very simple but extremely helpful!
Entrepreneurial journey
If you think that the people who came up with the idea for such service must really enjoy doing things spontaneously, you are absolutely right! Ludvig Linse, Spontano co-founder, says:
"I've always been very spontaneous, which sometimes is a fantastic feat but at other times is annoying. I'm talking about the times when I came up with a brilliant idea but was way too late to get people to join, since many of my friends like to plan ahead. Also, I felt that when it comes to going out or going to events – being spontaneous is generally way too complicated today. And so together with my brother, who is equally spontaneous, I decided to change this and Spontano was born."
While a decision to start a company might be made over night, there is usually a build-up that leads to it. In Ludvig's case, his entrepreneurial journey started with a thesis work in Spotify and a management trainee position at Klarna.
"Sometime during this period I started hanging out with entrepreneurs and realized that it was a possible way to go. What really made me take the leap forward, though, was the actual idea behind Spontano as it was really coming from my heart."
Business model and the team
As of today, Spontano's core team consists of the founders Ludvig and Oskar Linse and a group of brilliant people from various backgrounds that share their vision and make Spontano happen. Company's core business model is based on a cut from every booking on the side of event providers.
"We never charge our users anything extra – in fact often they get a perk for being spontaneous"
And it seems like users really appreciate Spontano and are eager to share its benefits with others as company's main user acquisition channel is through the word of mouth. Social media and various partnerships are examples of other tools used at Spontano to increase the reach.
Challenges and achievements
However, many businesses that serve as a middle link between companies and customers are facing famous catch-22 challenge – a vicious circle where content is needed to attract users and users are needed to give results to content providers. Spontano is not an exception but the team has a strategy to deal with this problem:
"In our case, we have worked very hard on securing the best event organizers since this is the core of our service. Now with the app, we are an even better tool for people that take decisions on the move – on the metro, at coffee breaks or already at the pub", tells Ludvig Linse to Nordic Startup Bits
Apart from user validation, Spontano received recognition from entrepreneurial competitions and became winner of Growth Awards, Stockholm Innovation Prize and Vinnova Vinn Nu. The prize money enabled the team to continue their work without bringing in external capital.
On our part, we wish best of luck to the team and look forward to testing Spontano in other locations all over Sweden.