Unified Remote: mobile app that controls your computer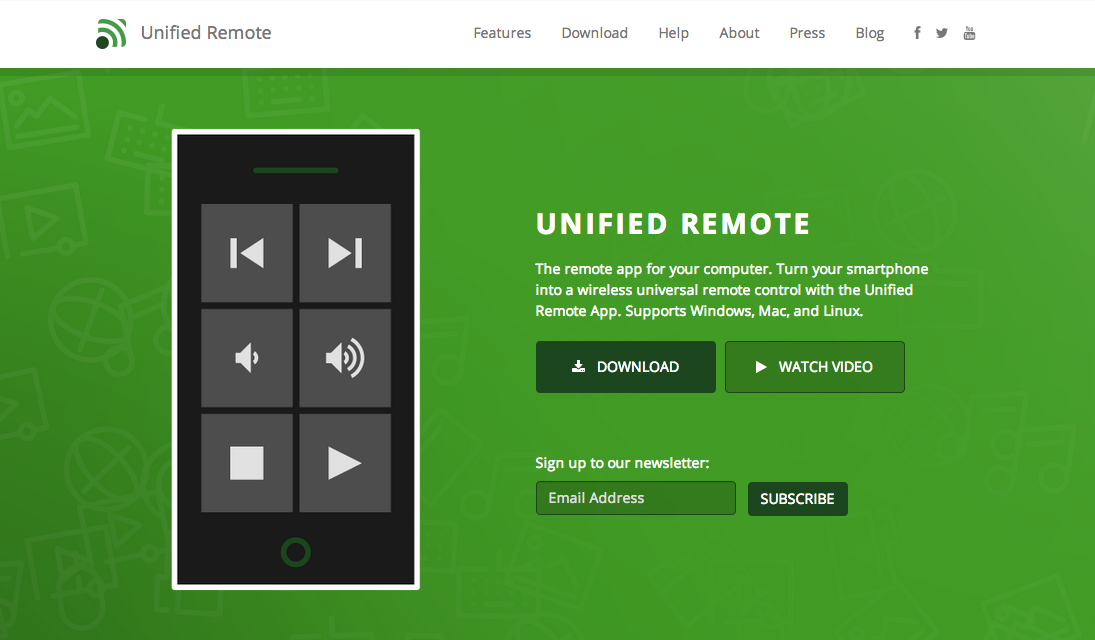 When back in 2010 two friends Philip Bergqvist and Jakob Berglund started working together on Unified Remote, their ambition was to solve their own practical problem – find an easy way to remotely control music or video programs on their computers.
Originally published in #NordicMade magazine
But when the result of their work – a Unified Remote app for Android – hit several thousand downloads just within first couple of days, Philip and Jacob decided to continue working on their project. Today Unified Remote app has over 3 million downloads worldwide, is rated among the top apps, and the figures continue to grow. It is based in Lund, Sweden, at Ideon Innovation company incubator.
We had a brief chat with Philip Bergqvist, company's co-founder and CEO, to find out more about Unified Remote and the people behind it.
Team members found each other at Qlik
Both Philip and Jakob, the company's co-founder and CTO, have a background in hobby software development and engineering. Philip has a Master's Degree in Electrical & Electronic Engineering from the University of Bristol in England, and Jakob is currently completing his last year of his Master's Degree in Computer Science at Lund University. The co-founding team first met 8 years ago during their internship at Qlik, where based on common interests in software development they started working together on a few projects, Unified Remote being the most successful of them.
"We started out when Android was brand new, which helped build our brand early on in the Android eco-system," explains Philip.
Remote controlled experience
Unified Remote is an app targeted towards consumers, addressing their need of controlling computer programs (like Spotify, VLC, Power Point, etc.) remotely, without a mouse or keyboard. When talking about unique values that the app delivers to its users, Philip points out:
Convenience
"We make it super easy for users to control many different things (you just need one app instead of many.)"
Personal
"We've always believed that remote control experience should be personal. We put a lot of effort into customization and extensibility features."
Aid
"We hear from many users that have suffered from an injury or other disabilities that our app helps them work or to use a computer in a better way."
3 million downloads so far
Since the time of its creation, Unified Remote has achieved some impressive results and 2014 has been particularly productive. This year the app surpassed 3 million downloads and currently has 100,000+ customers, with freemium as its business model.
"So far our strategy has only been to build a product that we love and keep making it better. It worked pretty well for us so far. Today we have 3 million downloads worldwide, yet being just 2 founders with no external investment," shares Philip.
Among other interesting developments is platform expansion. Unified Remote has moved from supporting only Android and Windows, to also supporting all major platforms such as: Android, iOS, Windows Phone, Windows, Mac, and Linux. And on top of things, Unified Remote has also strengthened its presence on the international arena with Philip and Jakob invited to Google Headquarters in Silicon Valley and featured on their Google Developers YouTube channel.
The future and the challenges
Being at the stage where they are, the Unified Remote team is challenged with two questions: how to grow and what areas to explore next.
"Should we grow organically or find investors, and if so, what type of investment: angel, VC, accelerator? There are also many interesting areas where we could apply our technology (e.g. gaming, smart homes, home automation, accessibility). But we are not sure which one it will be?" says Philip.
But one thing is sure – millions of users around the world keep the ambition high at the Swedish startup Unified Remote.