SEO tools are booming – which should your startup choose?
The world of SEO (search engine optimization) tools has become a jungle, and choosing which tool to promote your website in search engine rankings is a tough decision.  Below, we compare two of the newest SEO tools geared specifically for startups.
RankScanner vs SEORanking
RankScanner,was developed by Rune Jensen, an active entrepreneur since the age of 14 with experience in a number of e-commerce portals, including gocondom.dk, a popular site to buy, you guessed it, condoms.
RankScanner's software was originally developed for Rune's own use, but he soon realized that that there was a demand for the product, and developed a version for wide-scale release.
SEORanking was developed by Mathias Lund and Morten Petersen. They both have got their start at  Graduate Land, which is a career portal for students and graduates.  Like RankScanner, their product was originally designed for personal rather than commercial use.
Both programs have many of the same features, but differentiate in a few ways:
Keywords
Both tools have provide free access to their keword software.  SEORanking's free version allows users to get up to 10 keywords, and RankScanner's free version gives up to 25 keywords before upgrading is necessary.
Tracking your SEO ranking
RankScanner offers email reporting, so you get an email as soon as a rank change occurs.  SEORanking offers the same service, but with a daily report on rank changes.
Keeping an eye on the competition
Both tools allow you to spy on your competitors' rankings so you can judge whether your business should do something differently. RankScanner also makes it possible to make a list of competitors for each domain associated with that program checks up on them for you.
Analyzing your numbers
SEOranking works with Google Analytics, which helps to analyze, for example, the number of visitors for each keyword, and the "bounce rate" – the percentage of visitors who do not hang around. RankScanner does not incorporate Google Analytics, but has an analysis feature embedded within the program, making their program an "all-in-one".
See Also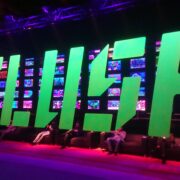 WordPress
RankScanner contains a WordPress login, making it advantageous for bloggers and online magazines.
Additional features on RankScanner
Rank Scanner allows users to add an unlimited number of domains, which can be upgraded individually as needed. Additionally, they have a feature called "Failover System" which double-checks results and ensures that rankings are entirely correct. RankScanner is also working on a feature that will make it possible to share email reports with your colleagues.
Additional features on SeoRanking
SeoRanking allows the SEO managers in a company to invite their colleagues onto the same account, so that everyone in the company can keep track of SEO and work together to improve the ranking on Google. They are also in the process of developing an additional feature that makes it possible to measure the volume all of monthly searches on your keywords.
Both programs are based on a principles of simplicity and ease of use, and are designed to be accessible to startups and entrepreneurs. So now it's up to you to assess which solution is the best for you and your business.