Startup Buzz a startup journey through Denmark in a Bus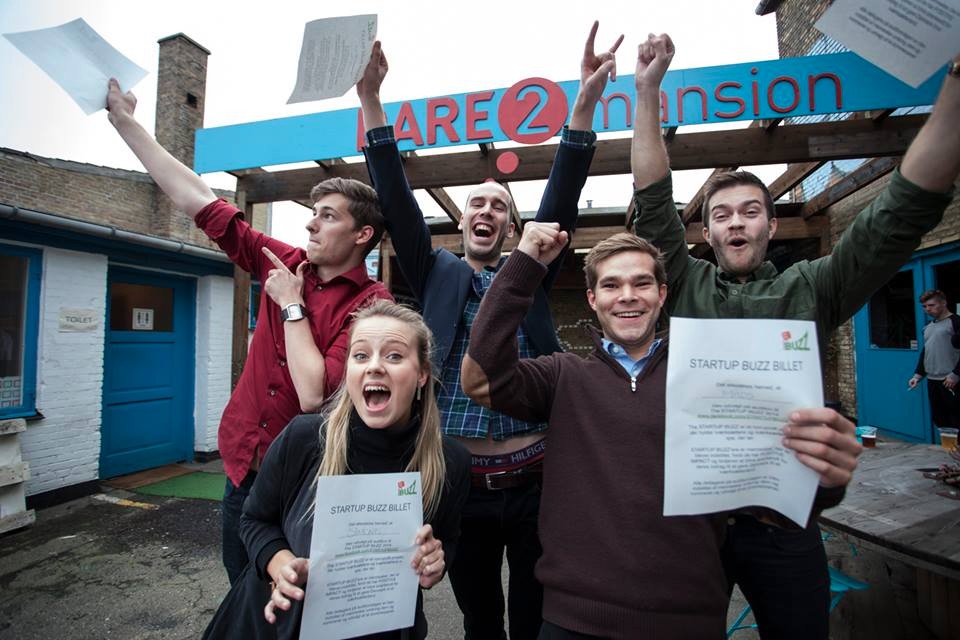 A transformational, non-profit program aimed at giving back to the Danish startup community, The STARTUP BUZZ is a five day journey and accelerator program across Denmark that shoots 12 entrepreneurs and their businesses into the stratosphere. A lot of crazy and amazing things happen in those five days and below you will find a recap of it all!
Purpose AND Profit
On Monday, BUZZers gained a fundamental understanding of key theories that would help them grow. They worked on discovering their personal and professional purpose with one of Denmark's best high performance coaches Lucy Vittrup. Laila Pawlak explained the Fundamental 4s and experience economy principles for turning customers into superpromoters. Kris Østergaard addressed Exponential Organizations and Massive Transformational Purpose. Esben Danielsen, Director of Roskilde Festival's Orange Innovation, spoke about creating a meaningful work culture. Lastly, telecom company Call Me's CEO Hanne Lindbald explained the thoughts and purpose behind the brilliant Tal Ordenligt movement and furthered the argument that purpose AND profit are not mutually exclusive.
Knowing your Worth
Tuesday morning, the BUZZers had breakfast with super coach Daisy Løvendahl who spoke about making the most of your innate strengths. From there, the BUZZers drove to Jutland where they met BUZZ alumni Daniel Bach of Bubble Labs who is working hard to help grow the Horsens startup community. BUZZers took a tour of Fængslet – Denmark's most infamous prison, which has since been turned into a super popular event space – and experienced deep reflection in the prison cells. Then, the BUZZers totally switched gears and went to Århus Business High School where they pitched for and helped mentor 300 entrepreneurship students (read more in Trendsonline's article here). The day ended at Viborg Animation Workshop where they witnessed how animation can serve as a powerful visual communication tool.
It's All About the Customer
On Wednesday, the BUZZers were hosted by BUZZ partners Kaospilot HIVE, Interactive Denmark, and Shareplay. The day revolved around preparing them to answer a mini case competition about using all five senses to design a great customer experience. Kaospilot Morten Nottelmann challenged the BUZZers to uniquely explore a room using their senses. They visited Moesgaard Museum where they heard from the museum's CEO Henrik Hatt and later created graffiti inspired signs at the Institute for (X). The BUZZers met BUZZ Alumni Kasper Bengtson of bSocial who spoke about how social media can create great customer experiences and Thomas Scherning who shared his company Apptitude's best principle and at the same workspace one of the BUZZers Lasse Tindbæk showed his platform Studiz.dk to the rest of the group. The BUZZers were further encouraged to continue their entrepreneurial journey by Vice-Mayor Anne Nygaard and Aarhus 2017 programme coordinator Trine Bang. Finally, the day finished with a delicious wine tasting at BUZZ Alum Morten Stahl Pedersen's wine store SMAGFØRST.
Building Your Company's 1000 Day Aspiration
Thursday was a big day for the BUZZers. On this day they built their companies' 1000 day aspirations for where they wanted their businesses to be in three years and the "Must Win Battles" that must be met in order to get them there. This year, the BUZZers were invited to do their LEGO® SERIOUS PLAY® workshop at the LEGO Idea House where founder Ole Kirk Christiansen created the first LEGO block. Finally, after lots of feedback, discussion, and thinking, the BUZZers re-boarded the bus to come back to Copenhagen. On the way, we picked up Entré Dining founder and BUZZ Alum Christian Erfurt who created a fine dining mobile restaurant upon the STARTUP BUZZ.
STARTUP BUZZ Conference and Winner Announced!
Friday morning. Lisbeth Holdt Jørgensen, former coach for the Royal Danish Theater and founder of Voice Incorporated, used voice coaching to improve the BUZZers' pitches. At 13:00, they pitched their answers to the case question: How can we make startups in Denmark more successful? DARE2network voted for the winners and a concept called Entrepreneur Dating won. The idea was conceived by Daniel Friis, Mikkel Steen, Julie Krog Vistisen, and Mattias Edström.
The pitches were followed by the STARTUP BUZZ Conference where 100 attendees were inspired by world class speakers. Mark Stevenson, author of An Optimist's Tour of the Future spoke about the importance of culture for taking your company to the next level amidst disruptive technologies. Chief Happiness Officer Alexander Kjerulf, author of Happy Hour is 9 to 5, followed up speaking about happiness in the workplace.
Finally, the winners of the STARTUP BUZZ were announced! Anders Cederholm Nielsen, co-founder of ArtBoost, won the top prize and was declared this Year's BUZZer. The Vækst BUZZer (the one who has grown the most throughout the week) was won by Kasia Lilja Wasilewska, founder of the design company Kasia Lilja. She also won a top advisory board. Finally, the Karma BUZZer (the BUZZer that has spread the most energy and positive impact) was awarded to Julie Krog Vistisen fra Livemagasinet. The night finished with a lot of love and a huge party at DARE2mansion where everybody's growth and success was celebrated.
Want to know more about the STARTUP BUZZ? Check us out on Facebook for videos from the week, photos, and much more! https://www.facebook.com/STARTUPBUZZ
Pictures are done by Rasmus Degnbol Photography