Templafy wins Traction showcase of the year at DEMO in the US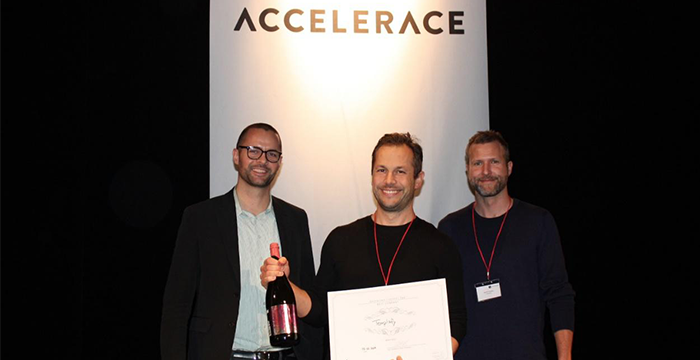 Danish Templafy is a startup to keep your eyes on. They are currently in Rotterdam, competing in the Get in the Ring "Olympics for startups", whose finals will be held tonight. But they already netted themselves another prize yesterday, the "Traction ward" at the event DEMO in the US.
Templafy is a service for ensuring that employees stick to a company's design manual. There are ample opportunities to mess up letterheads and other stationery by inserting images or selecting a mismatching font for your text. Templafy have developed a cloud solution which solves that headache, one that many large companies share.
"The global market for our service consists of 600 million users," said Jeppe Schytte-Hansen, a member of the Templafy team, on stage at the IDA Engineer Association's event, Born Digital.
First place at DEMO is in the bag

Templafy are on to something big, and this was further validated yesterday with a win at DEMO. Mik Strøyberg, from the scaling service Lemonsqueeze, explained it in not-so-humble (deservedly) terms:
"We won! We hammered 20 American startups, and are now set to follow Steve Wozniak and Peter Thiel on stage!" said a celebratory Strøyberg.
A win at DEMO gives Templafy the privilege to present on the event's main stage as the festivities wrap up.
Not the first awards to pelt Templafy

Earlier this year, Templafy received funding from Sunstone Capital and SEED Capital, who have also seen potential in the project. Since these investments, the startup has raked in awards, one after the other, as well as secured several major customers. A big part of this has been due to their ability to hire A-players, enticing them with offers they can't refuse.
"We have people in London, Iceland, Denmark and elsewhere around the world. Securing them was a high priority for us, and the compensation package has to be attractive. If we had saved our money on that front, or required relocation to Copenhagen, we wouldn't be where we are today," said Jeppe Schytte-Hansen at IDA's event.
We'll be rooting for Templafy to take home the gold at the Olympics for Startups in Rotterdam!